Every list starts with the first entry
Last updated on:
14th Dec 2020
Advertiser Disclosure: Some of the links on The Side Gig Longlist are affiliate links.
This means that if you click on that link and purchase an item I will get a commission, at no extra cost to you!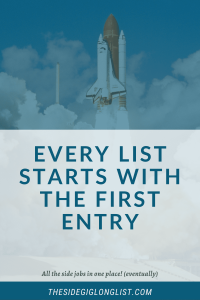 Even a longlist has to start somewhere.
Of course, I already added a few more entries to the lists.
I didn't want to launch the website with just one post for you to find.
In case you are wondering: the first entry in my lists was the one about a gig called UserTesting in the Test and Review list.
But before you jump to the list, let me tell you about this website.
What Is The Side Gig Long List About?
While searching for side gigs myself, I noticed that there are so many blogs about side jobs, gigs, and hustles.
The only problem is that all the information is scattered over hundreds of different websites.
So, while browsing through all this information, I came up with the idea to collect them all in one place.
Think of it as the index of a library. I don't want to write the books (or maybe a few), I just want to make it easy for you to find it.
There Are So Many Opportunities
Personally, I find the number of hustles (still struggling with calling it gigs, jobs, hustles) overwhelming. All those different types of side gigs, jobs, and hustles.
Most of them were new to me as I didn't realize that you could actually make money with it. Some of them even surprised me because I didn't know they existed.
To help you overcome this stage I also went through, I categorize the gigs and give you more background information and tips or tools to get you started.
I also try to test some of them myself. As a matter of fact, I already did.
Hopefully, you will understand that I can't test all of them.
I will inform you the best I can on gigs I didn't do myself, however.
Blogging As A Gig
I would love to make money with this blog, so you will find affiliate links and ads on this website. It would be kind of weird if I wrote about side gigs and didn't practice what I preached…
One of the lessons I took from a lot of bloggers that do make money with it, is that you should do what you are passionate about first, and make money next.
You Are Awesome
Really! You came to this blog and even read this first post, that was all about me and had little to offer for you.
To me you are important and I hope I can become valuable enough so you will visit the Side Gig Longlist a lot.
Every list starts with the first entry, every blog starts with the first post. Come back soon. I will make more!