Last updated on:
05th Oct 2022
Advertiser Disclosure: Some of the links on The Side Gig Longlist are affiliate links.
This means that if you click on that link and purchase an item I will get a commission, at no extra cost to you!
I am pretty sure that you have heard the name Neil Patel or his Search Engine Optimization (SEO) tool Ubersuggest before.
If not, then this post may contain some very interesting information and links for you.
Neil Patel has a great reputation in Online Marketing and with the -often- free courses and information on his website he has helped a lot of people generating more traffic and sales.
What is Ubersuggest
Ubersuggest is an online tool that will help you to gain more traffic to your website. It does this by letting you track and analyze SEO related aspects of the subjects you write about.
It doesn't matter if you have a blog about your daily activities, promote your profile as a transcriber, or if you try to earn some money with affiliate marketing with blogs like these. We all want the traffic, right?
Think about things like your monthly (organic) traffic, how well your keywords perform, how many backlinks you have, your overall SEO health, and if there are any issues.
It is a great tool for Keyword Research, Competitive Analysis, and finding Backlink opportunities.
How Ubersuggest can Help Preparing your Post
Ubersuggest has a collection of tools that will help you prepare (or optimize) your content and to investigate your competitors' SEO strategy.
The latter can be useful so you adapt your SEO strategy as you seem fit.
Let briefly discuss some of them:
Keyword Discovery Tool
The keyword discovery tool will let you find the best keywords concerning the topic you write about.
It is very easy to use. Just enter your keyword, select a country or city (which is great for refining your site to target the local trends), and hit search.
It will come up with a screen that looks like this: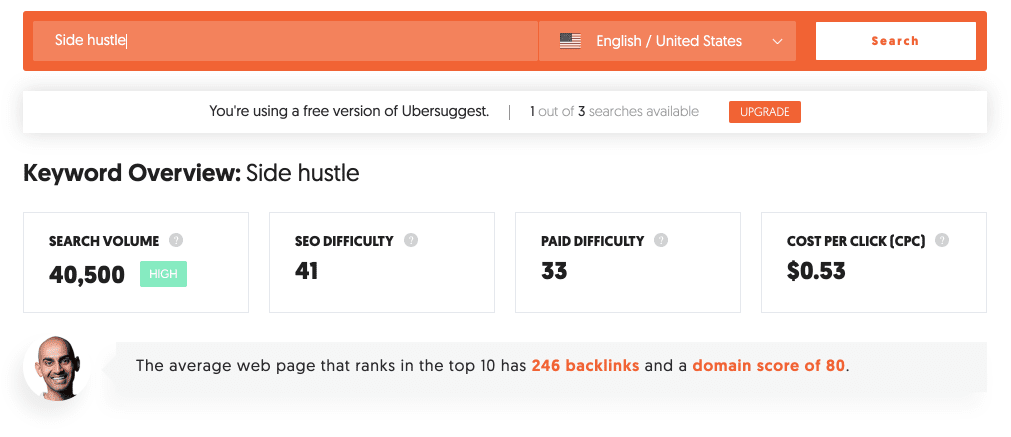 This will give you a global idea with some of the statistics concerning your given keyword(s).
Keyword Ideas
If you click on, let's say, SEO difficulty, you can zoom in and find keyword suggestions and related keywords (nice!) in the Keyword Ideas section.
It will give you information on the volume (monthly searches) and SEO difficulty (SD). High volume, low SD is what you are looking for if you are trying to find niche-like topics that do not have a lot of coverage yet.
You may have noticed that I skipped the Cost-per-click (CPC) and Paid Difficulty (PD) columns. These have to do with paying Google to show your result (as an ad). I'm not covering that now.
The panel on the right shows you some of the websites targeting those keywords and how many estimated visitors they have. It also shows their number of backlinks, domain score, and social shares.
Backlinks are links from other websites to this post or page.
The Domain Score is a number that represents the authority a website has. A higher score (authority) gives a higher ranking with search engines.
This is useful knowledge because it may benefit your own ratings as you manage to get some backlinks from the sites with higher domain scores.

Content Ideas
Of course, they can't automatically generate your content for you, but the Content Ideas tool will give you an overview of websites with related content, their traffic, and information on backlinks.

Again, you can zoom in on different aspects by clicking the buttons or links and find out which keywords or backlinks are responsible for that traffic.
It may also be a good idea to follow some of the higher scoring websites and take a little time to read/investigate their content. What do they focus on? How did they build up their story? And so on.
How Much Does It Cost?
First: You can start using it right away for free!
Of course, there are limitations to the free plan, but it will give you a very good idea of the possibilities and performance.
If you are exploring different keyword tools, just starting, or don't have a budget yet, the free version will most certainly do the job.
There is a 7-day free trial that lets you experience Ubersuggest in its full potential.
Cheapest Plan (Individual)
At the moment, the cheapest plan will cost you €29 (about 34 dollars) per month, or €290 for lifetime access.
This will let you manage up to 3 websites and is perfect for entrepreneurs and small business websites.
Even the cheapest plan will also give you access to SEO courses and coaching.
For a complete and actual overview of the plans, you might want to take a look at their pricing page.
I Tried This
To tell you the truth, I am just starting to find out how to use Ubersuggest, but it got me enthusiastic immediately.
The user interface is pretty easy to understand and even within the free options, you can get a lot of useful information concerning the keywords and other SEO success factors.
I haven't been using it long enough to tell you about results or gains in traffic, but as soon as I can, I will.
Conclusion
Without having seen a lot of the other Keyword Research and SEO tools, I dare to say that Ubersuggest is a great tool for doing your keyword and competitive research.
Even if you only use the free features it will get you a ton of information that will help you to optimize your content.
I found it to be very user friendly, again, without having the experience with other tools to compare it too.
I Like Ubersuggest
And I will continue to use it when exploring the best keywords for my posts.
What do You Think
What is your experience with Ubersuggest?
Does it work for you or do you prefer other tools?
Do you have tips to get the best out of Ubersuggest?
Did I forgot something or made a mistake?
Let me know in the comment section!
Other Keyword Resources
These sites and tools can also help you with your keyword research:
What's Next
I recommend Neil's Youtube channel for some amazing free courses.
Well, if you liked this post, then I would really appreciate it if you shared it on your social media.
Thank you for visiting! You are awesome!